Twitter / Kickstarter Campaign Headquarters
I've made it easy for you to help spread the word! Below you will find our TOP Fifteen Tweets

1. ARE YOU LOGGED ONTO TWITTER??? Login now!
2. Find an image or images from the 15 below and click on it/them/All 15!
3. When the tweet pops up simply LIKE and RETWEET as usual.
4. Repeat steps 1-3 throughout the campaign ---> Your assistance is greatly appreciated!
BONUS: 5. IF you know someone in your immediate circle who is in the press, could you please pass along some word and tell them there's an abundance of STORY going on over here that won't wait? 30 days only. Thank you!
September 28 <--- THANK YOU!!! ---> October 28

Chances are, you don't have a clue who I am. I have heard rumors that there are "artists" out there who party 24/7 and everything important is done for them?! Others write their songs. Others create their merch and designs. Others play and record their instruments. Their $$$ is provided by others so they may flaunt the "illusion" of wealth and power. It is the "others" who do most everything for them. All they do really is show up to the studio drunk or stoned and lay tracks that still others have to correct with auto-tune. Must be nice. But such is not the case with me.
I am a REAL person. I have a REAL life. I do not have perfect chiseled features, youth, and for heaven's sake, do not ask to see my dancing abilities! I like to keep it real. During the next 30 days I realize that YOU want to be amused and amazed. Yes? So right off the start I am going to allow YOU to participate in a REAL PARANORMAL EXPERIMENT. This is open to every person on the planet who believes they may have psychic abilities AND I want you to challenge your friends. It's possible that one of you MAY HAVE psychic powers and doesn't even realize it!
At the end of the second week I am going to release a video to all my supporters showing the proper way to contact the dead. You may find this... shocking?!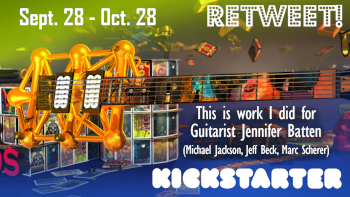 In the third week I am going to step out of the paranormal and into some intense family strangeness that I'll share with you. I have recently discovered that the person who raised us, my stepdad, may have had as many as ten different families spread all across the USA. I have a sister named Mary (who appears on two of my songs) and we have the same mother but different fathers (my DNA father is Richard Cox and hers is Donald L. Webber. I was born "Kenneth David Bryon Cox" and was adopted into the Webber family along with my brother Mike.). There is a website that does DNA testing called My Heritage that we ordered a DNA kit from. During the third week of my project's run that DNA test will come back and prove YES or NO to whether or not my sister has at least one confirmed new brother and one confirmed new sister!!! And that is only the start because we believe there may be as many as ten different secret families that Mr. Webber created over the years. This is sort of a Megyn Kelly / Oprah moment for my sister. Join us to see how it turns out for her!
Along the way, into the fourth and final week I will reveal and comment on all the paranormal activities that have impacted my life. Ever since my brain tumor I have been a magnet for all things paranormal and now I am going to let you in on the various strange things that I have sat in silence on.
All of the details are available for my supporters on my kickstarter page and in the updates. And if that isn't amusing and amazing to you then my suggestion for you is to click to Hunt for the Skinwalker on Vimeo. It's a paranormal documentary on a ranch in the USA that has overwhelming documentary evidence in the realm of the paranormal. That is going to be released before we launch on September 11th and looks to be FANTASTIC!!! And to everyone else, I look forward to getting to know you and hope you will support the efforts of a real artist and musician who wants to make a difference in the world. THANK YOU!
8/6/2018 --- Ken D. Webber, CEO of Plague of Smiles LLC.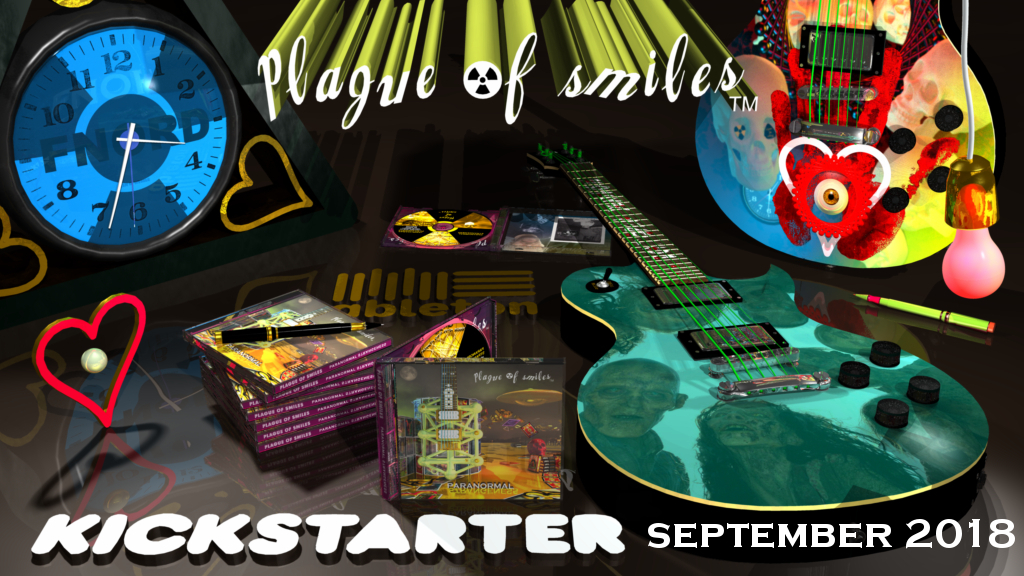 September 28 <--- THANK YOU!!! ---> October 28